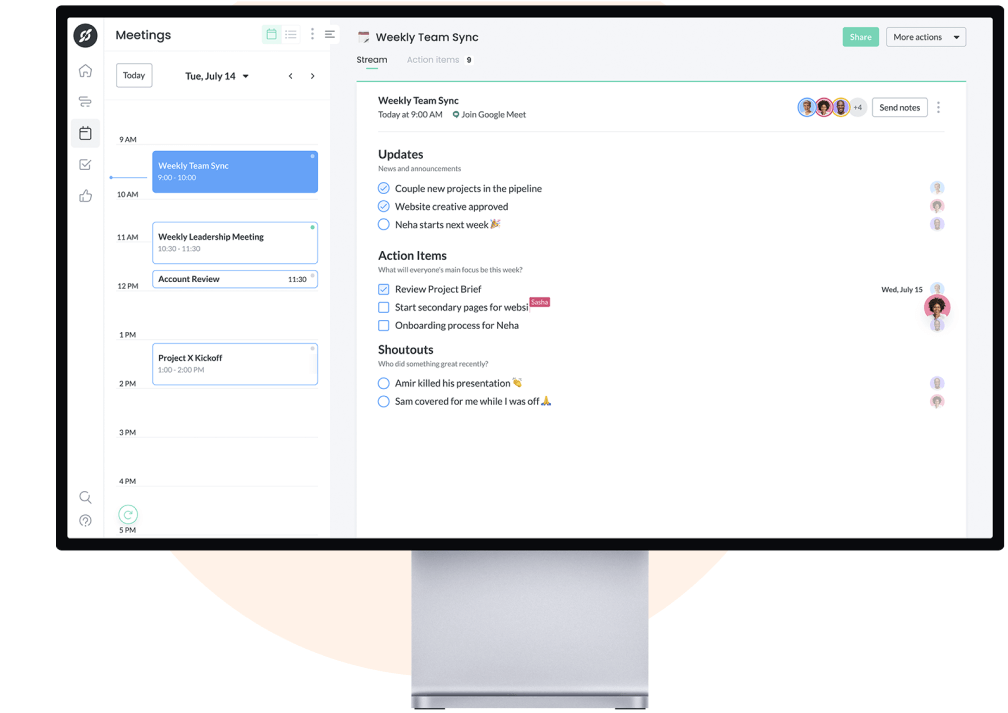 A team is nothing without the people on it, and a team meeting is nothing without the agenda. It is important that every team member has been given a chance to contribute to the agenda and express their thoughts. It is also important that every team member understands what is going on and is able to follow the meeting.
Fellow is a team meeting platform that helps teams of all sizes meet frequently, have productive team meetings, and keep each other accountable.
How often do you meet with colleagues to discuss your project or brainstorm ideas, but nothing ever comes of it? Fellow is designed to bring people together, to make the most of your time together and make sure the outcome of your meeting is more than just a bunch of words. It's a place for meaningful 1:1s, collaborative team meetings and even productivity.
Run effective meetings 🧑‍🤝‍🧑
Say goodbye to unproductive meetings. Fellow helps your team build great meeting habits through collaborative agendas, real-time notetaking, and time-saving templates.
Productive meetings with people outside of your company ✔️
Keep meeting agendas and action items in one place, by bringing everyone you work with – vendors, clients, agencies, mentors – into Fellow.
Enable important conversations across the entire company 🏢
Guidance makes it easy for admins to suggest talking points for managers and their teams to discuss during their 1-on-1s.
Your meeting notes in Zoom 📷
Fellow's app for Zoom brings your meeting agendas and notes into a convenient panel in your video meetings, eliminating the need to search for your notes before the Zoom meeting.
VISIT OUR WEBSITE  🌐 Fellow.app
Learn more at: 🔗 zigi.be/fellow